Best Telluride Hikes for Wildflower Season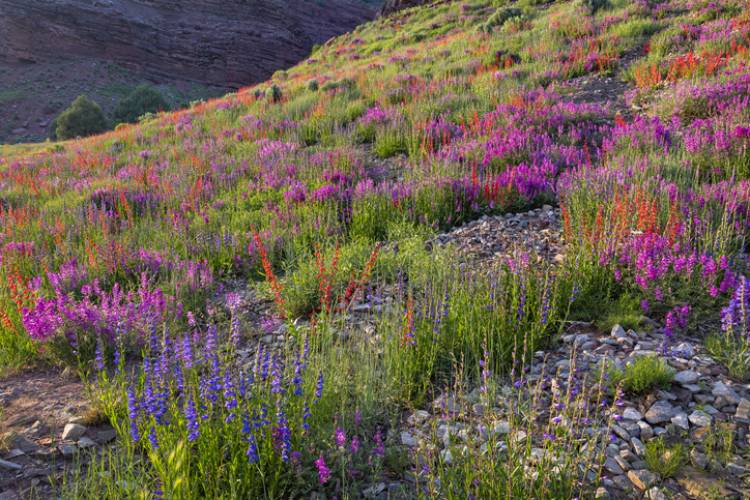 July and August are the best time to take a hike in Telluride to enjoy gorgeous wildflowers in the alpine environment. Pick a hike near Telluride and be on the lookout for wildflowers including Lupine, Paintbrush, Mule's Ear, and the Colorado state flower the Blue Columbine. Book a Telluride vacation cabin to enjoy the outdoor adventure that awaits with a summer stay in the mountains.
Check out our guide to the best hikes near Telluride for enjoying the beauty of wildflower season!
Hope Lake 
Hope Lake Trail is a 6-mile out and back style trail that is popular and is marked as moderate difficulty level. You can expect to gain 1,515 ft of elevation and even spot a lake along the way! The trail is kid and dog-friendly but be sure you have all the necessities to ensure a smooth hike.  
Sneffels Highline Trail 
The Sneffels Highline Trail is another great trail for spotting wildflowers near Telluride, CO! The out and back style trail can take you 12.4 miles out and back, but you can always turn around earlier to make this a shorter day hike. Dogs can join you on this hike to be on the lookout for Telluride's beautiful wildflowers.  
What to Bring on a Telluride Hike 
Now that you know what hikes near town will give you the best views of Telluride's gorgeous scenery and wildflowers, it is important to know what you should bring to ensure a fun and safe hike.  
Here is our guide for gear to bring along on a Telluride Hike: 
At least 3 liters of water (Pro tip: add electrolyte drops or a supplement to prevent cramping) 
Rain Jacket 
Light gloves  
Hat 
Sunscreen 
Fabric band aids (to prevent blisters)
Extra pair of socks 
Hiking Snacks. Here are some of our favorites: diced salami, cheese cubes, apples, mandarin or dried mango, cashews 
Snacks for little ones- we recommend sour patch kids as the perfect snack for hiking
After the Hike 
Looking for a place to rest your legs after your hike? Head to Smugglers Brew Pub for a pint of beer and a plate of empanadas. You can also order a burger, BBQ ribs, elk Bolognese, and more to soothe your appetite after a long day on the hiking trail! Order a seasonal brew or a staple, signature beer to pair with your entree. This is the perfect spot to relax after a hike!
Book a Telluride Vacation Rental
Start planning a summer getaway in the gorgeous San Juan Mountains! Choose between cabins that have a hot tub where you can rest after a day on the hiking trails or select a pet-friendly rental to bring along your four-legged friends! You're sure to find the Telluride cabin of your dreams with one of our vacation rentals.