A Guide to Telluride Winter 20-21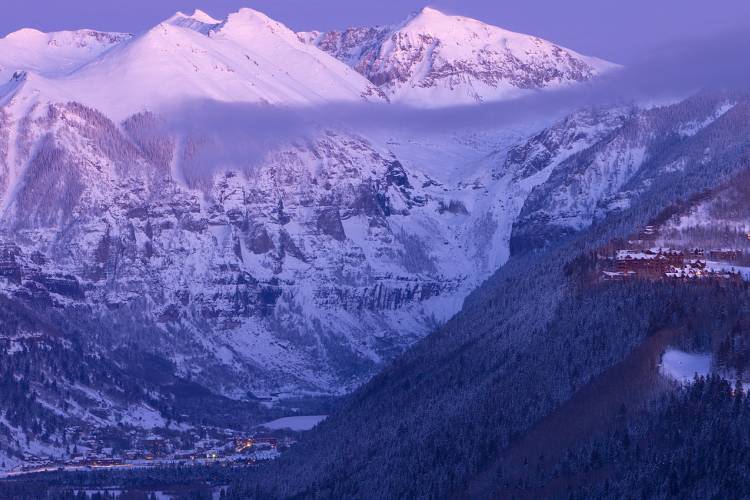 Telluride is set to open for the winter season on November 28, 2020, and we couldn't be more excited to welcome skiers and snowboarders to our piece of paradise. Soon we'll all be happily schussing the San Juan slopes with friends. With most time being spent out-of-doors and face coverings are a natural part of the sport, skiing is a perfectly safe activity. To ensure the safety of guests and the community, Telluride Ski Resort will be implementing spacing and extensive cleaning and sanitation in restrooms, lodges, and restaurants. 
To help you navigate this unique ski season, we've compiled a guide to what can be expected and what you need to know to plan a perfectly hatched ski vacation to beautiful Telluride, Colorado.
For local COVID-19 health updates, insurance info, and more, please visit our Plan a Safe Stay page.
Telluride Opening & Closing Dates
Opening: 11/28/20
Closing: 4/5/21 (estimated)
Start Planning Your Telluride Trip Today!
What to Expect this Season at Telluride
Inevitably, this ski season at Telluride Ski Resort will look much different than years' past. Most notably, the resort is reporting that it will be maintaining social distancing in lift lines with maze queues and only allowing singles to load the chairlift unless parties are related or skiing together.
Same-day lift tickets will not be available. Online, advance purchase only.
All ski school lessons will require advance reservations and pre-purchase.
To-go dining options will be available whenever possible.
Indoor spaces will be adjusted to reduce the number of people able to gather in space and seating will be adjusted for a minimum of 6-feet spacing.
Telluride Ski Resort continues to implement enhanced cleaning procedures.

Telluride Ski Resort requests that guests commit to a health code of conduct, and continue to take measures such as wearing a face mask, frequent hand washing, and maintaining at least six feet of distance from others.
2020/21 Telluride Ticket & Pass Options
2020/21 Telluride Lift Ticket Prices
Daily lift ticket prices start at $140. Advanced purchase, at least 7 days, required.
Ski Telluride on the Epic Pass
To help keep you safe and give you the space you need, the Epic Pass, which affords 7 days of skiing at Telluride and 60+ resorts worldwide, is launching a new reservation system that prioritizes pass holders. This year, Epic Pass holders enjoy exclusive early season access from November 6 through December 7. There are a variety of customized pass options, including 1-day through 7-day passes, designed to meet a variety of needs and budgets.
You can also rest assured when purchasing your pass. Epic Coverage is free with every pass and provides refunds for job loss, injury, and certain resort closures (e.g. COVID-19).
After December 8, reserved lift tickets will be available.
Dining Out this Winter in Telluride
It is likely that a state mandate will require restaurants to operate at 50% capacity. Book your reservations well in advance to ensure you can enjoy the world-class dining experience Telluride is known for.
Book Your Telluride Ski Rental
Ski in ski out and larger vacation rentals are expected to be in especially high demand this season, so don't wait to book or may just be left out in the cold when it comes to your preferred lodging.