How to Experience a Colorado Distance Learning Trip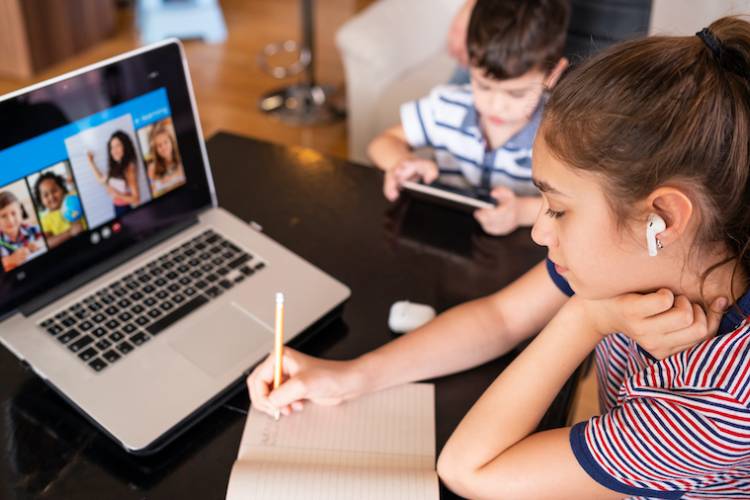 The school year is off to a very different start. We, at Vivid Vacation Rentals, truly feel for teachers and families with school-aged children. If you're in a situation where you have options to learn (and work) remotely, we welcome you to consider joining us in the San Juan Range of the Colorado Rocky Mountains this fall and winter. A change of location, even if just for a week, can be the best way to encourage learning, focus, and growth.
Where to Stay for Your Colorado Distance Learning Trip
Vacation rentals have been one of the only sectors in the travel and hospitality industry that have sustained and even grown business. There's a reason for that. You, the guest, are in control of your own environment. Also, vacation home rentals are typically spacious and there are similar comforts to that of your own home. The only difference? Your backyard is the Rocky Mountains!
Telluride, Colorado is the perfect place to plan your Colorado distance learning trip. Our small, charming mining-turned-ski-town is a quiet, idyllic spot to learn, work, or recoup in the fresh mountain air. The fall, particularly throughout November and into early December are generally very calm, making it a nice time to escape. 
Vivid Vacation Rentals offers a range of home-away-from-home condos, townhomes, cabins, and mountain homes to choose from. 
Here are a few tips and tricks for pulling off a successful Colorado distance learning trip or even extended stay to Telluride.
HOW TO DISTANCE LEARN IN COLORADO
What do I need to make this work? Why should I do it? Is it worth the hassle? These are probably some of the questions floating around and we have the answers for you below.
Reliable and fast Wi-Fi
Access to fast internet is the most critical piece of a productive and positive Colorado distance learning trip. You and your children need reliable Wi-Fi service from your laptops. It's critical. All Ascend Properties vacation rentals provide high-speed Wi-Fi. However, if anything happens to come up with access, you have someone to call for support. Rest assured!
Historic Opportunities to Learn about Telluride's Mining and Pioneering Past
Hear the tales and see the sights on this lively tour about town, and sign the whole family up for a walking tour, presented by the Telluride Historical Museum. Join longtime local, performer, and community historian Ashley Boling as he recounts the people, events, and buildings that make Telluride unique. Ashley has been giving engaging historical walking tours of Telluride for more than 20 years and his innate enthusiasm for history and natural gift for storytelling will have you entertained for the complete hour and fifteen-minute tour of town.
Local Retailers for Mountain Distance Learning Needs
If you need school or office supplies or have any dire laptop repair needs, Telluride has a couple providers, but the local experts at Digitiqe Telluride come well rated.
Think of Mountain Time like Island Time
Mountain time is different from home time. In the mountains, the pace is slower—especially in the fall. As you likely experienced this spring, remote working and learning is a far cry from being a quiet environment. While you're staying in one of our spacious single-family mountain homes or cabins, everyone has personal spaces to escape to work, learn, nap, chat with friends, or read a book. Don't be surprised if you actually hear yourself think for the first time in months.
Raise Your Spirits in the High Rockies
Mental health has been a growing topic in the U.S., and the COVID-19 pandemic has only heightened the need to put focus on it. Many people are suffering from frustration, sadness, anxiety, or depression during this time. Being in an outdoor-centric community can help alleviate those struggles. At lunch hour, consider taking the whole gang on a picnic hike or bike or out for a couple runs or XC skiing laps. Getting outdoors while the warm Colorado sun is shining is a great way to change up your routine home schedule and encourage more smiles. A morning or evening run or hike for mom or dad is also a great way to keep fit while you're on vacation and fight stress—which we know all parents are keenly feeling.
Breathe in the crisp mountain, enjoy the San Juan vista, and take a moment for yourself. You deserve it.