Telluride Eases Dining Restrictions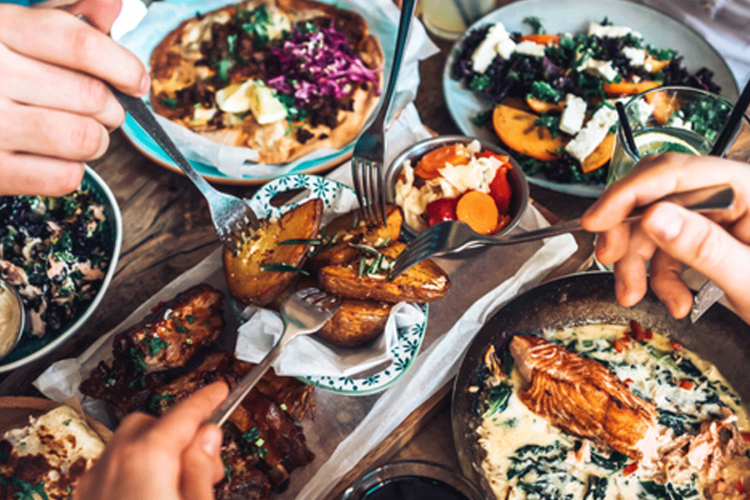 Update (3/1/21): San Miguel County COVID-19 restrictions are easing as of March 1 to allow for increased capacity in indoor dining. 
Restaurants can now go to 50 percent capacity or 50 people, whichever is fewer, with a last call for food and alcohol 11 p.m.
Update (1/13/21): As of Monday, January 4, San Miguel County and more than 20 counties in Colorado moved to orange level, thanks to lower cases of COVID-19 and reduced positivity rate. This announcement comes as a boon to local Telluride restaurants, which were closed to indoor dining over the Holidays. 
Our Favorite Telluride Restaurants
Telluride is full of exceptional restaurants, but we've been absolutely dying to get back to some of our favorite eateries and dining haunts. Here they are. 
Built in 1895, the New Sheridan Hotel is home to a litany of historic events, and it also happens to be home to the best steak in town. Enjoy the incredible atmosphere and mouthwatering flavors, cuts, and vintages while you dine at The New Sheridan Chophouse.
Location: 231 W Colorado Ave, Telluride, CO 81435
Phone: (970) 728-9100
For mouthwatering slices, casual atmosphere, and a wide selection of beers on tap, nothing compares to Brown Dog Pizza. This Telluride staple serves a variety of award-winning pizzas, including the decadent Detroit-style pie. 
Brown Dog is currently offering two Pizza Make at Home Kits, a Detroit-style and Cheese Pizza. Order your kits 
Location: 110 E Colorado Ave, Telluride, CO 81435
Phone: (970) 728-8046
A great place to gather for drinks and unique new American fare, The National is a must-visit while you're in Telluride. This chic spot will quickly rise to the top of your list of favorites too.
Location: 100 E Colorado Ave Suite B, Telluride, CO 81435
Phone: (970) 728-1063
Dine-in service at 221 South Oak is a treat that shouldn't be missed, but part of the allure of having a vacation home rental with a fully equipped kitchen is cooking with your crew. 221 South Oak offers Dinner or Brunch boxes/ Dinner features mussels, steak, and rum-poached bananas, accompanied by wine. Brunch offers carrot cake pancakes, eggs Benedict, candied bacon, duck confit hash, half-bottles of bubbly, and the ingredients for "The Local Brunch Cocktail", the Flatliner. Call 970.708.1437 to order a kit and watch their instructional video.
Location: 221 S Oak St, Telluride, CO 81435
Phone: (970) 708-1437
This restaurant has truly nailed it. Few combinations can compete with Wood Ear's whisky lounge and ramen noodle bar when it comes to cuisine and libations that tend to satisfy in mountain climates. 
Location: 135 E Colorado Ave, Telluride, CO 81435
Phone: (970) 852-0469
For locally sourced comfort food and award-winning handcrafted beers and cocktails, it's got to be Smuggler-Union Brewery & Restaurant. Don't miss their Belgian-style blonde ale, "Blonde Betty," which was awarded the Bronze Medal at the 2019 Great American Bear Festival.
Location: 225 S Pine St, Telluride, CO 81435
Phone: (970) 728-5620
This new deli-style eatery is delightful and features fresh, organic dine-in or grab and go menu items.
Location: 219 W Pacific Ave, Telluride, CO 81435
Phone: (970) 728-7020
This 19th Century icehouse turned restaurant has been a Telluride dining mainstay for more than 30 years. Enjoy French cuisine and a selection of incredible international and domestic wines. 
Location: 150 W San Juan Ave, Telluride, CO 81435
Phone: (970) 728-6232