Telluride's Top Winter Activities (Beyond the Ski Slopes)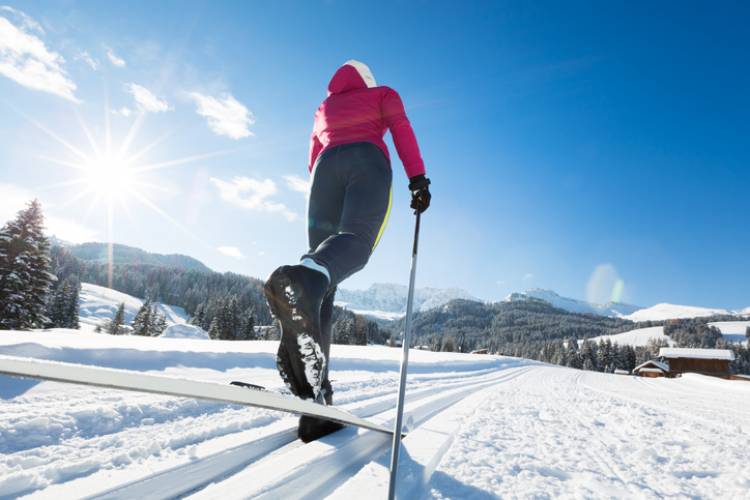 If hitting the slopes isn't your idea of fun or the ski resort has limited lift ticket sales, there are plenty of other ways to enjoy the beautiful snow-capped San Juans and all in its winter glory.
Here is a roundup of our favorite winter experiences beyond alpine skiing and snowboarding. 
Telluride Nordic Skiing
Telluride boasts six complimentary cross-country or Nordic skiing areas:
Mountain Village Golf Course
TopAten on the ski area
Telluride Town Park
The Valley Floor
Trout Lake 
Priest Lake
All provide groomed trails, but views and scenery vary greatly. So try as many as you can to take in Telluride's many environments. Grooming, a daily online grooming report, and trail maps are made available from charitable donations and fundraising to the Telluride Nordic Association.
For equipment rentals, trail maps, head to Town Park, located in the historic Unruh House on 500 East Colorado Avenue.
Telluride Fat Biking
Fat biking is the newest and fastest-growing winter sport in Telluride and many other mountain destinations. Fat bikes are designed with extra-wide tires to enable riders to float on the snow while providing superior traction in any condition. This innovative tool provides unrivaled access to incredible landscapes and terrain, previously not available.
Head to Paragon Bootdoctors for half or full-day rentals or tours. Top fat biking trail rides include the Valley Floor, for a more mellow and cruisy experience, or Bear Creek to get a true heart-pumping workout.
Telluride Snowshoeing
If you like hiking in the mountains in the summer or fall, you're going to love snowshoeing among the stunning San Juan peaks in Telluride this winter. Dressing appropriately (in layers) and looking at the weather will ensure that you're comfortable the whole time. As a newbie, you'll want to bring, buy or rent supportive and waterproof/resistent winter boots, as they strap into the snowshoes, also available for rent at Telluride Sports, Jagged Edge, and Boot Doctors. A set of poles complete the gear outfitting.
Pick up a snowshoeing trail map at Town Center and you're well on your way to exploring the magical winter wonderland. Popular trails include the Valley Floor, for first-timers, or Bear Creek Trail, which isn't too steep and features incredible views of canyons and peaks. 
Experienced snowshoes will want to drive up to Lizard Head Pass. This high alpine adventure is accessed off of Highway 145. 
Be sure to bring a pack with snacks and plenty of water. A spare pair of gloves can also come in handy.
Hot Springs near Telluride
If you're looking for a relaxing down day, plus an opportunity to day trip a little bit and experience the spectacular San Juan byways, consider a trip to nearby hot springs. The closest are located in Ouray and Ridgway and provide everything from a charming, rustic soak to more of a resort complex-style experience.
The Ouray Hot Springs Pool and Fitness Center features a multitude of spring-fed pools of varying temperatures, plus a lap pool, and a diving board.
Wiespoden Hot Springs features soaking facilities that are fed by continuously flowing natural hot springs ranging from 102 to 108 degrees in temperature. 

Winter Horseback Rides & Sleigh Rides in Telluride
Cowboy culture is a defining part of historic and modern Telluride, so a trip to this storied town wouldn't be complete without some time spent around the stables. Whether you're looking to horseback ride or be pulled in a sleigh cozied up with your loved ones, Telluride offers a winter horsebound experience you won't soon forget.
Roudy's Horseback Adventures offers private rides in the snow, sleigh rides for up to 10, and a wagon ride for up to 12. The wagon ride is offered for early winter, as it requires lower snow depths. 
Located on the historic Aldasoro family ranch, which dates back to the early 1920s, Telluride Sleigh and Wagons provides an incredible family-friendly evening, including dinner in a cozy, heated yurt.