Top 5 Wildflower Hikes in Telluride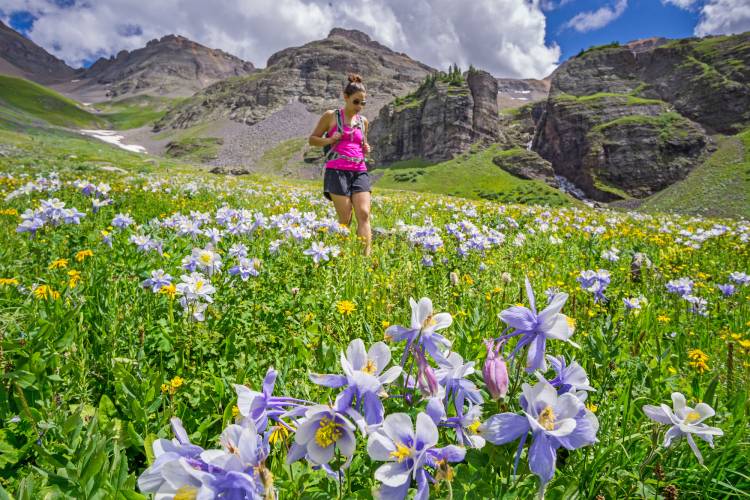 Telluride is bedecked in a colorful blanket of wildflowers in July and August. High alpine meadows, forests, and river banks are dotted in spectacular species of flora, including Columbine, the Colorado state flower, Lupine, Indian Paintbrush, Fireweed, Monkshood, and much more. Here are some of the best wildflower hikes in Telluride, according to our local experts.
#1 - Columbine on Ophir Pass
To enjoy the regal Centennial state flower and stunning San Juan views, you'll want to head to Ophir Pass. Here you can experience this multi-elevation dweller springing up from the rocky soil. The most common varietal is the Blue Columbine, which is prevalent in soil with a bit higher water content, such as along streams, creeks and rivers or boggy forests.
How to get to Ophir Pass?
Choose your adventure: drive to hike or bike up to Ophir Pass. To access the pass road/trailhead, drive south from Telluride on Hwy 145 for 8 miles. At the post office sign, turn left onto a dirt road and proceed east through the town of Ophir to the rugged pass road. Next, you'll ascend six miles and gain about 2,480-feet to a 12,789-foot summit, where you can hike around. Crystal Lake is a .5 mile scramble from the top of the pass and highly recommended for the views and prevalent wildflowers. Reliable, treaded shoes and strong physical fitness is required.
#2 - Lupine on Sneffels Highline Trail
This popular blue-purple Western wildflower flourishes everywhere in Telluride from pine forests and valley meadows to high alpine slopes. One of the best places to see these elongated beauties is along the Sneffels Highline Trail.
How to get to Sneffels Highline Trail?
Get ready for a big, but rewarding day as Sneffels Highline Trail, rated most difficult, features 3,520-feet in gain and a 13-mile round trip. You can start right from downtown Telluride on North Aspen Street. Follow the Jud Wiebe Trail westward for .5 miles until you reach the sign marking the Deep Creek Trail. Next, take a right at the signage marking the Mill Creek Trail and continue up through the Butcher Creek drainage. Hike through beautiful high alpine wildflower meadows and the Mill Creek mining ruins. To complete the full loop, follow the Waterline Trail, which will land you back where you started. 
#3 - Monkshood en route to Bear Creek Falls
A coveted find, Monkshood is revered for its deep purple petals and tall stalks. This species blooms into late summer and can be spotted along subalpine streams and wetland areas. Look for them while hiking Bear Creek Falls.
How to get to Bear Creek Falls?
Bear Creek Preserve Trail is a 5-mile round trip hike or bike with 1,050 feet of gain is rated easy to moderate. This trail not only provides views of Bear Creek Falls, wildflower meadows and cairns, but exceptional vistas of downtown Telluride below. The route starts at South Pine Street in town. Take the dirt road all the way up to Bear Creek Falls. The road also connects to the Wasatch Trail and Bridal Veil Basin. 
#4 - Paintbrush on the Wasatch Trail
The famed Indian Paintbrush--named for its brush-like petals--can be found all over Telluride, but for a variety of colors, you'll want to head up the Wasatch Trail. Here you can take in a range of Paintbrush shades from the ubiquitous scarlet to orange and even rosy pink. 
How to get to Wasatch Trail?
As aforementioned, the Wasatch Trail can be accessed from Bear Creek Trail or Bridal Veil Falls. In the summer, this hike offers entree to some of the best wildflowers in the San Juans, possibly even Colorado. This most difficult-rated route takes about 6 to 8 hours to complete and features 4,300 feet in elevation gain.
The Wasatch Trailhead is about two miles up the Bear Creek Falls trail.  After a steep ascent featuring old mining ruins, you'll come to a fork in the trail. Take the left, which will keep you on the East Fork of the Wasatch Loop. Next you'll hike over a saddle to Wasatch Mountain. From here you have two options, hike down La Junta Basin back to Bear Creek Trail or continue east heading towards Bridal Veil Falls. 
#5 - Fireweed on the San Miguel River Trail
For Fireweed, the pretty purple and red flowers that sprout soon after a burn or wildfire takes place, you're going to want to explore the San Miguel River Trail. Like Monkshood, their season is a bit longer than most, too, so you can often enjoy these special beauties well into September. 
How to get to the San Miguel River Trail?
The San Miguel River Trail is an easy 4.25 mile (one way) meandering route that follows the San Miguel River through the length of town. To the east, you can follow the trail all the way to the Bridal Veil Falls trailhead. To the west, you can stroll all the way to Highway 145.
See You in Telluride
Thank you for reading about our favorite wildflower hiking trails in Telluride. Now, let us help guide you to the perfect vacation.