Vacation Rentals Near Telluride's Colorado Ave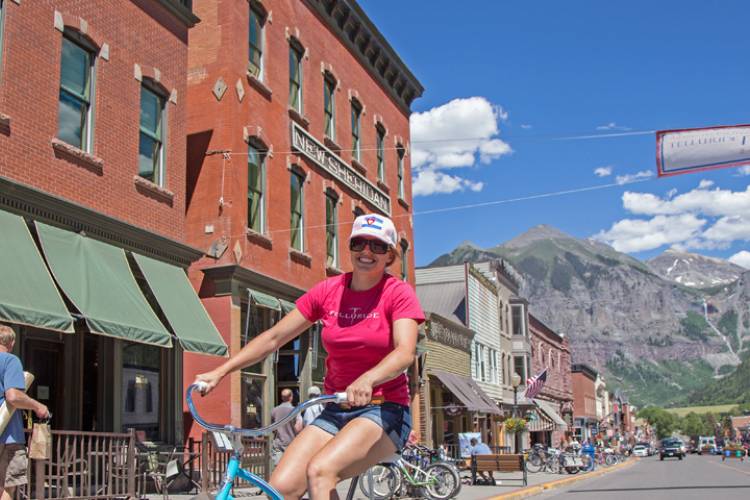 Experience Colorado History in Telluride
Telluride has a rich history that dates back to the Victorian mining era. When you stay in downtown Telluride, unlike many ski resorts, you are surrounded by architecture from the past. Colorado Ave, Telluride's Main Street, has many historic monuments including the Sheridan Opera House, originally built in 1913.
There's something special about staying near Colorado Avenue. There's a remarkable mix of Colorado history and modern elegance. Many annual events bring people together and there are lots of cool restaurants and bars. Even better, the Oak Street and Coonskin ski lifts rise right out of town, and, in the summer you can easily ride your bike or hike right from Colorado Ave.
Interested in staying in historic Telluride?
We invite you to experience a part of Telluride history with a vacation rental in historic downtown. Check out these five luxury vacation rentals near Colorado Avenue.
Positioned one block from Colorado Avenue, Alley Suite is a luxury two-bedroom apartment with easy access to Elks Park, Baked in Telluride, Grocery, High Alpine Coffee. This is the spot to be if you want to stay at the center of the action. 
Built right above East Colorado Avenue, Park House is the ultimate Telluride pad. This luxury, five-bedroom home is perfect for families and groups. You can plenty of space to spread out and access to an 8 person hot tub. Shops, restaurants, and Telluride activities are right outside your front door.
Located right across from the entrance to Telluride Town Park, near East Colorado Avenue, this three-story home with five bedrooms is one of Telluride's top luxury rentals. While staying at Ballard View, you can easily walk anywhere in downtown and take in Telluride's unique mountain culture.
Galena Chalet is a unique property located just a few blocks from Colorado Avenue. At this cozy one-bedroom rental, you have great views of Bear Creek Valley and Telluride Ski Resort. When the weather is nice guests enjoy a large outdoor patio and outdoor dining. 
Located on the west side of Telluride, one block from West Colorado Avenue, Holly House is a special luxury vacation rental with great access to both downtown and the free gondola. Bright and spacious, this five-bedroom home has a beautiful balcony with views of Ingram Falls and Telluride Ski Resort. 
See You in Telluride
Thank you for checking out some of our luxury vacation rentals in downtown Telluride. Staying near Colorado Avenue is a great way to get the most out of your vacation in the San Juans.