Where can I get take out in Telluride right now?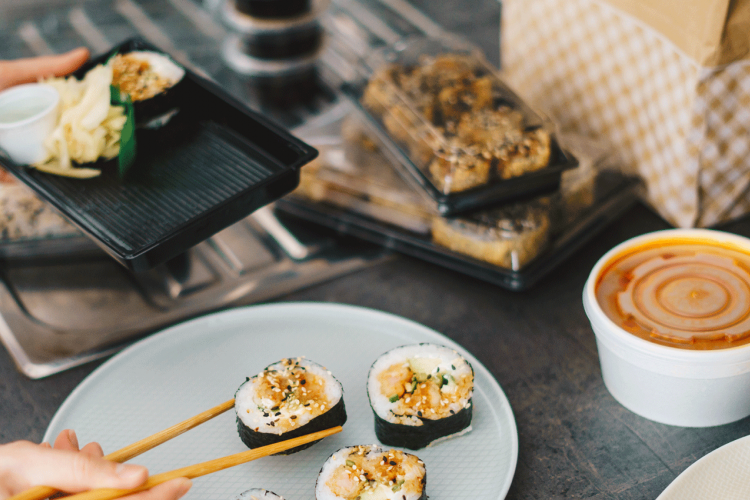 Telluride's dining scene is renowned, offering something for everyone from fine dining at 10,000 feet to world-famous pizza at Brown Dog. While dining out in Telluride may not be possible or recommended this winter, that doesn't mean you can't enjoy the flavors and dishes in the comfort of your Telluride vacation home rental.
To help guests and visitors stay in the know, we've compiled a list of all the restaurants and which is open for take out, currently closed, or to be determined. We'll be keeping this roster updated so tune back in.
221 SOUTH OAK - OPENS DECEMBER 11 FOR CARRY OUT/ OUT DOOR DINING
AEMONO - TBD

ALLRED'S - CLOSED
ALPINST & THE GOAT - OPEN 11-8 DAILY FOR CARRY OUT - CLOSED WEDNESDAYS
ALPINO VINO - CLOSED
ALTEZZA - OPEN 12-8 CARRY OUT DAILY
BAKED IN TELLURIDE - OPEN FOR TO CARRY OUT DAILY
BEAN CAFÉ - OPEN 8-2 FOR CARRY OUT DAILY
BLACK IRON KITCHEN - OPEN DAILY 4-8 PM - OUTDOOR SEATING AVAILABLE!
BROWN DOG - OPEN DAILY 3-8PM FOR CARRY OUT
BUTCHER & THE BAKER - OPEN FOR CARRY OUT MON-SAT 7AM-8PM ; SUN 8AM-2PM BRUNCH ONLY
CARAVAN - CLOSED
CINDY BREAD - OPEN MON-FRI 8AM-3PM FOR CARRY OUT
COFFEE COWBOY - OPEN 7-5 DAILY FOR CARRYOUT -*WEIRD CHRISTMAS HOURS
CORNERHOUSE GRILLE - OPEN 11:30-2 ; 5-8 DAILY FOR CARRY OUT
COSMOPOLITAN - OPEN 4-9 DAILY FOR CARRY OUT
CRAZY ELK - TBD
ESPERANZA'S TEQUILAS - OPEN DAILY FOR CARRYOUT
FLORADORA SALOON - OPEN DAILY FOR CARRYOUT
GHOST TOWN- OPEN DAILY FOR CARRYOUT UNTIL 6 PM
HIGH ALPINE COFFEE(BETWEEN THE COVERS) - OPEN 9-5 WEEDAYS; SUNDAY 12-3
HIGH PIE -OPEN FOR CARRY OUT 12-9 MONDAY - FRIDAY; 11-9 SATURDAY & SUNDAY
LA COCINA DE LUZ - OPEN FOR CARRYOUT; CLOSED SUNDAYS
LA MARMOTTE - CLOSED
LA PIAZZA DEL VILLAGIO - UNSURE OF OPENING DATE - CALL BACK WEEK OF 12/14
LA PIZZERIA - UNSURE OF OPENING DATE - CALL BACK WEEK OF 12/14
LAST DOLLAR SALOON - TBD
LIBERTY BAR - TBD

M LOUNGE - TBD
MOUNTAIN VILLAGE MARKET - OPEN
NEW SHERIDAN BAR - CLOSED
NEW SHERIDAN CHOP HOUSE - CLOSED
NEW SHERIDAN ROOF TOP - CLOSED
O'BANNON'S IRISH PUB- TBD
OAK - TBD

OVER THE MOON - TBD
PESCADO - CARRY OUT - INDIAN NIGHT ON WEDNESDAYS - SUSHI ON FRIDAY NIGHTS
POACHER'S - OPEN FOR CARRYOUT DAILY
RUSTICO - OPEN FOR CARRYOUT 4-7 DAILY
SHAKE N DOG GRUB SHACK - OPEN FOR CARRYOUT DAILY 10:30-5PM
SIDEWORK - TBD
SMUGGLERS - OPEN 12-8 DAILY FOR CARRYOUT
STARBUCKS - OPEN FOR TO GO ORDERS
STEAME'S BURGER BAR - OPEN DAILY FOR CARRYOUT
TACO DEL GNAR - TUESDAY-SATURDAY 11-8
TALAY - CARRY OUT 4-8 PM DAILY
TELLURIDE COFFEE CO. - OPEN 7-7 DAILY
TELLURIDE DISTILLERY - OPEN 2-8 DAILY CARRY OUT DRINKS AND BRATS
TELLURIDE TRUFFLE - 11-6 DAILY
THE NATIONAL - OPENING FRIDAY DECEMBER 11 FOR CARRY OUT DINING
THE PICK - OPEN FOR CARRY OUT 8AM-2PM DAILY
THE PHOENIX BEAN - CLOSED
THE TUNNEL - WORKING ON DROP OFF MENUS - PRIVATE CHEF OPTIONS AVAILABLE
THE VIEW BAR & GRILL - CLOSED
THE WEST END BISTRO - OPEN FOR CARRY OUT DAILY BREAKFAST 7:30-10 DINNER 5-8
THERE - CLOSED
TOMBOY TAVERN - OPEN DAILY FOR CARRYOUT - OUT DOOR SEATING AVAILABLE!
TRACKS CAFÉ & BAR - OPEN DAILY AT 11AM
VILLAGE TABLE - OPEN FOR CARRY OUT 4:30-8:30 DAILY - OPENING DECEMBER 9TH
WOOD EAR - OPEN 5-9 DAILY FOR CARRY OUT